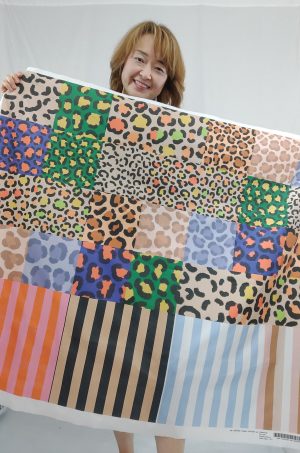 I was writing a post for my Instagram to finally introduce myself after all these years, lol
Because of the limit words, I have to cut a lot of detail.
So here is more depth of my sewing journey.
I hope you enjoy reading and take feeling positive whatever your journey is:)
I'm Meg, born and raised in Japan, and now happily settled in the U.S. with my husband, son, and our adorable GSD
My sewing journey began. I moved to the U.S., and fate led me to meet this fantastic Japanese lady living in the same Georgia town.
She taught herself to sew and offered weekly classes to a small group of us. It was an all-day affair, about five of us, and let me tell you, it was not just about sewing.
We took turns cooking lunch and indulged in each other's favorite Japanese meals – talk about a delightful combo!
Her classes were great, and I soaked up everything she taught me like a sponge.
I'd finish one project and zip back home to sew two more before the next meeting. She was so impressed with my progress.
Life took a turn, and a full-time job and my friends returning to Japan meant I lost touch with my excellent teacher.
Regret is not my thing, but this one makes the shortlist. Ah, well, life happens!
I kept sewing, though, just smaller stuff like appliance covers and curtains – no fittings required.
Then my son arrived, and boy, did we have a blast sewing pajamas together!
We'd head to Jo Ann Fabrics, and he'd pick his favorite fabrics while I crafted cute pajama pants for him. Oh, the memories! ❤️
I churned out so many pajamas that I could've opened my own PJ factory! 😁
From there, it was sewing for my son, nephews, and even my friends' kids. The instant gratification and happiness kids expressed when they chose their fabric choices that's what sewing is all about!
But you know what they say, once you catch the sewing bug, there's no turning back.
I leveled up and dived into the big four patterns for sewing my clothes. Metric system, no seam allowances, and the language difference
– I had to figure it all out with trial and error. But the thrill of wearing my self-sewn outfits to work every Monday is unbeatable!
With a full-time job, my fabric shopping mainly shifted online.
Those little fabric swatches always made me wonder, "How do they make it?" The curiosity in me was always intrigued.
Fast forward, destiny led me to Bonnie Christine's Immersion course.
She taught me the art of fabric design and boy, my mind was blown!
Now, I can sew clothes using my unique fabric designs – how cool is that, right?!
It's been an incredible journey of sewing evolution over fifteen years, and you know what?
I'm still hooked! I can't get enough of it, and I'm excited to see what the next fifteen years will bring!
Thank you for reading this far.
Things I sew are mostly my garments, casual and classic styles. I only follow trends if I really like them.
I also share garments that I sew with the fabric I design.
Thank you for reading till end.
Happy stitching
Meg🧵😊